Deaf Empire was produced by The Prague Shakeapeare Company at Prague's Kolowrat Theatre in March, 2017.
"One of the company's best productions… Deaf Empire showed what a production about a musician's life should be." —The Lennon Wall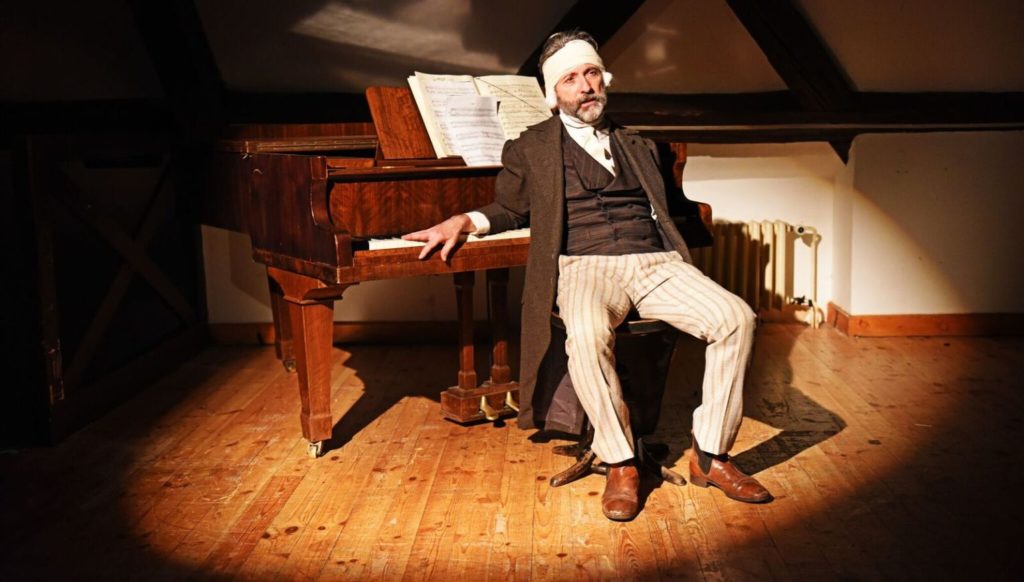 Nationalism, art, revolution and what it means to be Czech are questions that burn through Prague society in the 1800s. Deaf Empire, an original play by Stephan Delbos, reimagines the dramatic turns in the life of the "Father of Czech Music" Bedřich Smetana (1824–1884). The notion of what it is to be Czech, and art as the urgent heartbeat of nationalism unfolds in this play at the Kolowrat Theatre. In the late half of the 19th Century, the fervent Smetana insisted on the validity of Czech melodies and themes in classical music and opera, and achieved significant social prominence. But, he was not immune from tragedy. The death of his wife and children and complete loss of hearing spurred a fall from grace for the composer.
In the final decade of his life, while suffering from deafness and worsening mental health, Smetana composed some of his most famous music, including Má vlast (My Homeland), an orchestral portrayal of the landscapes and legends of Bohemia.
Recreating Smetana's struggle for artistic integrity amid the cultural imperialism of Austro-Hungarian rule and the limits of his own ability, Deaf Empire is a meditation on music, artistic dedication and the vicissitudes of fame and fate.
Interview Feature at Radio Prague