"A beautiful and fulfilling anthology… Poems such as Roque Dalton's 'Tavern' and many others just sing and inspire." —Ed Sanders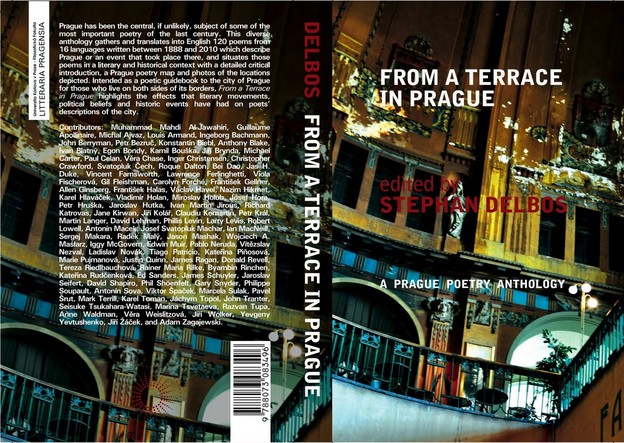 Prague has been the central, if unlikely, subject of some of the most important poetry of the last century. This diverse anthology gathers and translates into English 120 poems from 16 languages written between 1888 and 2010 which describe Prague or an event that took place there, and places those poems in a literary and historical context with a detailed critical introduction, a Prague poetry map and photos of the locations depicted. Intended as a poetic guidebook to the city of Prague for those who live on both sides of its borders, From a Terrace in Prague highlights the effects that literary movements, political beliefs and historic events have had on poets' descriptions of the city.
Reviews
"Prague has pervasive literary associations, a fact not overlooked by the hawkers of souvenirs and proprietors of restaurants. In the center you can buy a Kafka mug or t-shirt and have lunch in a pub emblazoned with images from Hašek's The Good Soldier Švejk. If that's not to your taste, there is also a restaurant named after Rilke. Stephan Delbos's anthology attempts to go beyond this tourist veneer. Though the anthology is styled as a guide, the intentions are bolder. As Delbos, a poet, journalist and translator from New England, writes in his preface, 'Walking through Prague with these poems in mind, one has an indelible awareness of the lineage of poetry written in and about these streets and buildings, many of which have remained virtually unchanged for centuries.' In short, he is rescuing the city's literary heritage from bastardization."
"From a Terrace in Prague is an ambitious literary undertaking… The great strength of this anthology is its single focus of opening up Prague and the poetry of Prague to the reader. Delbos makes brave editorial choices to that end, not shying away from long poems such as the aforementioned Tsvetaeva poem or Roque Dalton's masterpiece "Tavern," whose five narrators relate to the reader the "barroom talk" of the pub U Fleku for seventeen pages. He also doesn't eschew poems written by collaborators or visual poems, such as those by Jirí Kolár, which are collages made from Czech newspapers and texts.
From a Terrace in Prague is an indispensable gift for anyone traveling to Central Europe or to any lover of Central European history or literature."
—Shaindel Beers, Contrary Magazine
"An impressive collection, titled "From a Terrace in Prague" – itself a quote from one of my favourite poets, Ivan Blatný – and it offers a rich portrait of the city: often evocative, sometimes provocative, and featuring some of the great names of world poetry. Should we need any proof of Prague as a literary muse, this book offers it."
Contributors: Muhammad Mahdi Al-Jawahiri, Guillaume Apollinaire, Michal Ajvaz, Louis Armand, Ingeborg Bachmann, John Berryman, Petr Bezruc, Konstantin Biebl, Anthony Blake, Ivan Blatny, Egon Bondy, Kamil Bouska, Jiri Brynda, Michael Carter, Paul Celan, Vera Chase, Inger Christensen, Christopher Crawford, Svatopluk Cech, Roque Dalton, Bei Dao, Jas H. Duke, Vincent Farnsworth, Lawrence Ferlinghetti, Viola Fischerova, Gil Fleishman, Carolyn Forche, Frantisek Gellner, Allen Ginsberg, Frantisek Halas, Vaclav Havel, Nazim Hikmet, Karel Hlavacek, Vladimir Holan, Miroslav Holub, Josef Hora, Petr Hruska, Jaroslav Hutka, Ivan Martin Jirous, Richard Katrovas, Jane Kirwan, Jiri Kolar, Claudiu Komartin, Petr Kral, Martin Langer, David Lehman, Phillis Levin, Larry Levis, Robert Lowell, Antonin Macek, Josef Svatopluk Machar, Ian MacNeill, Sergej Makara, Radek Maly, Jason Mashak, Wojciech A. Maslarz, Iggy McGovern, Edwin Muir, Pablo Neruda, Vitezslav Nezval, Ladislav Novak, Tiago Patricio, Katerina Pinosova, Marie Pujmanova, Justin Quinn, James Ragan, Donald Revell, Tereza Riedlbauchova, Rainer Maria Rilke, Byambin Rinchen, Katerina Rudcenkova, Ed Sanders, James Schuyler, Jaroslav Seifert, David Shapiro, Phil Shoenfelt, Gary Snyder, Philippe Soupault, Antonin Sova, Viktor Spacek, Marcela Sulak, Pavel Srut, Mark Terrill, Karel Toman, Jachym Topol, John Tranter, Seisuke Tsukahara-Watasi, Marina Tsvetaeva, Razvan Tupa, Anne Waldman, Vera Weislitzova, Jiri Wolker, Yevgeny Yevtushenko, Jiri Zacek, and Adam Zagajewski.